American Dream
American Dream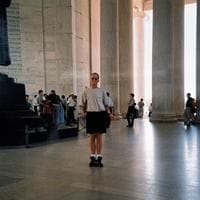 American Dream & Social Mobility
American Dream-key Terms Individualism: ~ central concept in way Americans see themselves and are viewed by others → self-reliance and responsibility has shaped since 17th century -> rooted in ideas of Enlightenment (Puritanism & frontier experience) Multiculturalism: ~ referred to Canadian and Australian minority policy in 1970s ~ became popular as feminists, gays, lesbians and members of ethnic minorities challenged North America & Western Europe -> asked for equal rights & opportunities ~ concept of multiculturalism has achieved more rights but also cultural fragmentation (Zersplitterung) The Puritans: ~ were members of a social and religious movement within 16th and 17th century English Protestantism -> wanted to cleanse Church of England from remaining influence of Roman-Catholic Papism ~ shaped many aspects of American civil religion: virtue, integrity, education, work... -> term "puritan" is used to describe people with an extremely narrow-minded and conservative outlook New Canaan: name referred to land west of river Jordan that became Palestine -> was country to which Moses led his people when God told him to free them from Egyptian slavery ~ fleeing people to America from religious persecution (religiöse Verfolger) referred to when they envisioned American colonies as "New Canaan"-> hope America would become their "Promised Land" Manifest Destiny: ~ they were God's chosen people in God's chosen country and tried to establish an exemplary nation in North America -> settlers came...
Mit uns zu mehr Spaß am Lernen
Lerne mit über 620.000 Lerninhalten von den besten Schüler:innen!
Vernetze dich mit anderen Schüler:innen und helft euch gegenseitig!
Bekomme bessere Noten ohne großen Aufwand!
Alternativer Bildtext:
to America to find freedom and dreamed of a rich and cheap land -> concept on hope to find success in America resembles the American Dream in the Manifest Destiny Frontier: ~ term which referred to line of settlement moving westward ~ concept of frontier is related to American idea of manifest destiny and explains the Americans need for new frontiers (Grenze) Melting pot: ~ everybody lives together -> blending in ~ "Letters from an American Farmer" Crevecour wrote: "Here individuals of all nations are melted into a new race of men Salad bowl: ~ people live together but separate and keep their citizenships and cultures -> immigrants don't blend in but adapt to general characteristics of culture -> mixture of both represents USA of today Democracy: ~ belief in American from government of people, by people and for people. Pilgrim fathers: ~ English settlers that created Mayflower compact to create functioning social structure to prevent catastrophic conditions Westward movement: ~ "Manifest Destiny" to expand the country westward to the Pacific Ocean and Mexico r social mobility in the US Content: ~ the US is a land of grotesque inequality -> the rich and poor live in separate Worlds ~ the rich ones insulate themselves from the rest who earns less ~ US is the richest country with biggest poverty ~ hardly any Americans believe that the gap between rich and poor people should be closed -> because America is a wealthy country - American's accept the inequality because of the American Dream -> believe that anyone has a chance to reach to the top ~ in US there were no nobility that helped poor people result is that US lacks public provisions American -> ideal has centered not on protecting the poor, but on giving them the chance to become rich -> writer: Jonathan Freedland L The American Dream Definition: The American Dream is the Ideal by which equality of opportunity is available to any American, allowing the highest aspiration and goals to be achieved. Hopes: - live a better and happier life - hoped to find political or religious freedom, justice or social equality, cheap land or better economic opportunities Reality: ~ did not come true for all of them - ethnic groups (blacks etc.) often suffered due to prejudice and discrimination - others fitted in and been given the opportunities they needed to succeed - for all immigrants has meant: giving up certain traditions and adopting new costums