How to analyse a political speech
How to analyse a political speech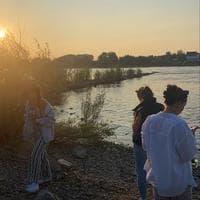 Lernzettel für den Aufbau, Formulierungshilfen, linking words & stylistic devices für die analyse einer politischen Rede :)
Introduction HOW TO AWALYSE; A POLITICAL SPEECH →When and where is the speech delivered? →Who is the speaker? some informations general theme/topic? → purpose of the speech? →what kind of audience, who is the audience? Main body (quotation!) Structure: →Outline the structure of the speech • (introduction-main part- conclusion) →>How he/she build up the arguments Language & Style: Stylistic devices -> rhetorical strategies style of the speech ->> Effect: →How do work all together? message of the speech? -Intention of the speaker? Conclusion →Sum up your conclusions →if necessary put the speech into a historical context (→ personal opinion) - although = obwohl - whereas = wohingegen - on the contrary = im Gegenteil - in contrast to = im Gegensatz zu - in fact = tatsächlich -namely = - as a result = =demzufolge - previous to = vorherig = nämlich Language support • In the following I want to analyse how (...) altemps to convince the audience in her/his (...) speech of the (...) by using different linguistic techniques meant to (..) • The speaker gives the speech during (...) in the year (..) . The speaker adresses the topic of (...) • In the first few lines the speaker informs the audience /argues that puts forwards the idea of (...) .The author uses (...) to (...) Linking words - In addition, furthermore, besides, moreover, on top of this . The speaker would like to show that (...) •The speaker warns of...
Mit uns zu mehr Spaß am Lernen
Lerne mit über 620.000 Lerninhalten von den besten Schüler:innen!
Vernetze dich mit anderen Schüler:innen und helft euch gegenseitig!
Bekomme bessere Noten ohne großen Aufwand!
Alternativer Bildtext:
(...) • The author wants to draw the audiences attention to the fact that (...) •The speaker makes clear that (...) • Throughout his/her speech (...) employs a number of stylistic devices to underline (...) •... uses here this (...) to show (...) • The (...) underline the importance of this passage • About halfway trough the speech s/he appeals to the audience by (...) In general I have come to the conclusion that (...) • All in all the speaker convincly argues her/his case on behalf of (.) = außerdem Stylistic devices - alliteration - allusion - anaphora - antithesis/contrast - connotation - direct adress - enumeration parallelism -repitition - rhetorical question - Simile symbol = Alliteration = Hinweis auf etw. Anapher = Antithese = Konnotation = direkte Ansprache = Aufzählung Parallelismus = Wort-/Satzwah. für Aufmerksamkeit = rhetorische Frage Vergleich Symbol =