Stylistic devices in sonnet 18
Stylistic devices in sonnet 18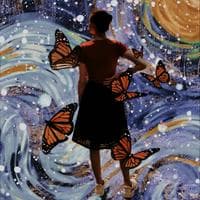 Stylistic devices in Shakespeare's sonnet 18 and their effect.
P.Volk Stylistic devices in sonnet 18 element iambic pentameter Metre: iambus Rhyme scheme: abab cdcd efef gg Exceptional rhyme scheme: "[...] eyes can see, [...] life to thee" (I. 13-14) rhetorical question simile alliteration anaphora metaphor ellipsis personification quote x / x / X | X "Shall I compare thee to a | X 1 summer's day? (I. 1) repetition "[...] a summer's day? [...] more temperate: [...] buds of May, [...] short a date:" (I. 1-4) a b "Shall I compare thee to a summer's day?" (I. 1) "Thou art more lovely and more temperate" (1. 2) "Nor lose [...] Nor shall [...]" (l. 10-11) "[...] fair from fair […]" (I. 7) "And often [...] And every [...]" (1. 6,7) "the eye of heaven shines too hot" (1.5) "fair" (I. 7, I. 10) "eternal" (1. 9, I. 12) a b summer and the protagonist "Thou art more lovely and (you are) more temperate" (1.2) "Nor shall death brag thou wander'st in his shade" (1. 11) 26.02.2021 effect The iambic pentameter is easy to read; it conveys a dreamy and amorous mood The regular variety of the rhymes (abab) could reflect the comparison of the the crowning climax of the sonnet is emphasized by an interruption of the text stylistics direct addressing arouses the reader's intention Here it is even an extended simile because it says "you are more love and more temperate" - → creates a powerful image of the protagonist's beauty enriches the poetic effect to emphasize the fading summer to emphasize that absolutely nothing can steal the protagonist's beauty reinforces the description of the sun because of the ellipsis the text stylistics isn't interrupted → easier to read the reader...
Mit uns zu mehr Spaß am Lernen
Lerne mit über 620.000 Lerninhalten von den besten Schüler:innen!
Vernetze dich mit anderen Schüler:innen und helft euch gegenseitig!
Bekomme bessere Noten ohne großen Aufwand!
Alternativer Bildtext:
has a better imagination of the dark, inevitable death and puts it in direct contrast to the immortal beauty of the protagonist "fair" and "eternal" always connected with the person to whom the sonnet is dedicated, to emphasize the immortal beauty