George Orwell: Shooting an Elephant
George Orwell: Shooting an Elephant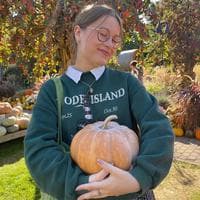 Meine Lernzettel & 14P Klausur zu Shooting an Elephant
Ⓒ Shooting an Elephant 1 SUMMARY George Orwell works as a sub-divisional police officer of Moulmein, a town in the British colony of Burma · he is, like the rest of the English, a military occupier →>> that's why he is hated by a lot of the Burmese the Burmese can't rebel openely, but they show their disrespect by harassing Europeans at every opportunity (e.g. they foul Orwell during a soccer game) even though Orwell is opposed to the oppressive British Empire he serves, he is "theoretically and sec secretely" side of the Burmese the on conflicted mindset: feels guilty for his role in colonialism, but still hates the insolent Burmese who torment him One day, a minor incident takes place that gives Orwell insight into the true nature of imperialism and the reasons behind it he receives a call from another police officer, informing him that an elephant has been causing damage in the town On the way to the affected area, locals explain that the elephant is not wild, but has had an attack of 'must' (= tame elephants held in chains, break their restraints and go berserk) to The Burmese have been unable restrain the elephant, which on it's rampage has destroyed public and private property Orwell goes to the neighborhood where the elephant was last spotted, trying to figure out where it is now but the more...
Mit uns zu mehr Spaß am Lernen
Lerne mit über 620.000 Lerninhalten von den besten Schüler:innen!
Vernetze dich mit anderen Schüler:innen und helft euch gegenseitig!
Bekomme bessere Noten ohne großen Aufwand!
Alternativer Bildtext:
he learns about it the story makes less and less sense, because everyone is telling him a different story →he nearly concludes the story was a boax 1 suddenly he hears a commotion nearby and rounds a corner to find a "coolie (an unskilled laborer) lying dead in the mud, crushed by the elephant → the corpse appears to have been in excruciating pain "1 Klausur am 03.05.21 ANALYSIS Orwell holds symbolic authority and military supremacy he's still powerless to stop the harassing and 'abuse' he receives from the opressed Burmese Colonialism leads to contradictory thinking and pits different sets of Orwell's principles against one another the elephant serves as a symbol of colonialism : eg. much like the Burmese who have been colonized and who abuse Orwell, the elephant has been provoked to destructive behavior by being appressed the While the elephants destructive behavior and Burmese' rebelliousness may not be unequivocally good things, they are made understandable given the oppressive conditions they have to endure In the same way that Orwell does not understand precisely how he fits into the power dynamics of colonial Burma, he also has trouble finding a clear-cut narrative of the elephant's rampage evidently, colonialism and the power dynamics it entails are too convoluted (= difficult) to be contained within a single straightforward point of view SUMMARY Orwell orders a subordinate to bring him a gun strong enough to shoot an elephant with the gun, Orwell walks to the field wher the elephant appears to be he is followed by a large group of people from the neighborhood the gun the townspeople who were previously uninterested in the elephant have seen and are now excited to see the beast shot Orwell feels uncomfortable he had not planned to shoot the elephant & requested the riffle only for self defense when Orwell spots the elephant, grass it is calmly eating killing an elephant is akin (-ähnlich) to destroying "a huge and costly piece of machinery" understands that he should not shoot Orwell it he suspects that the animal's attack of "must" will soon be over → he wants to simply watch the elephant to make sure it does not become aggressive again → does not plan on harming it Orwell realizes that he is compelled to shoot the elephant, because of the crowd behind him expecting to see the elephant's demise Orwell, the imperialist, cannot do anything other than what the Burmese expect him do he reflects "when the white man turns tyrant it his own freedom that he destroys " Orwell realizes that he committed to killing the elephant the moment he ordered that he be brought a riffle → he entertains the possibility of doing nothing and letting the elephant live, but concludes that this would make the crowd laugh at him his entire mission as a colonialist is not to be laughed at thus, sparing the elephant is not an option ANALYSIS Once again, the Burmese appear to wield power over Orwell, subverting the colonial hierarchy an authority figure, but rather a Orwell is no longer spectacle the force of the Burmese' anticipation is beginning to make Orwell feel like he can not completely control how he handles this matter (pressure) 2 there is no ethical or practical reason to hurt the elephant → it is a peaceful creature that has been driven to rebellion by its mistreatment, harmless animal, valuable piece of property for the British, all of Burma was essentially a valuable piece of property (metaphorical link between the elephant and colonialism) Orwell reneges on his ethical and practical conclusions almost as quickly as he makes them by being placed in front of a crowd, Orwell has been forced to take on a performative persona that makes him act counter to every reasonable impulse he has colonialism : I paradox of by limiting the freedom of others, the British have actually forced themselves to adopt a limited, exaggerated role in order to maintain their grip on authority thus limited their own freedom way more sharply and colonial propriety comes to force the colonizer to act barbarously SUMMARY to test Orwell decides that the best way handle the situation would be to approach the elephant to its temperament and only harm it if it behaved aggressively → but this would end anger Orwell an he would look like an if the elephant maimed (= verkrüppeln) him in front of the natives idiot There is only one thing Orwell can do he loads the gun, lies on the road and takes aim at the elephant Orwell aims at the elephant's head, but too far forward to hit the brain, then he fires the crowd roars in excite- ment & the elephant appears weakend → after a bit of time, the elephant Sinks to its knees and begins to drool only the third shot downs Orwell waits for the elephant to die, but continues to breathe →→he fires at his heart, but the elephant hardly seems to notice the bullets to the elephant Orwell is distressed to see the elephant laboring to die, clearly in agonizing pain, So he fires his smaller rifle into its body countless times these bullets caliber do nothing he leaves the scene, unable to bear the elephant's suffering any longer he is later told that the elephant took half an die & that the Burmese stripped the meat off its bones hour Orwell notes that he because it gave his Orwell's choice to kill the elephant was controversial: the elephant's owner was angry (but, as an Indian, ad no legal recourse), older British agreed with Orwell's choice, but younger colonists thought it inappropriate (because in their opinion elephants are valuable than a coolie) it was more is lucky the elephant killed a man, Own actions legal justification ANALYSIS Orwell's desire not to be laughed at trumps all his motivations not to kill the elephant → he's afraid of humiliation the conventions of imperialism make Orwell feel compelled to perform a particular irrational role he cannot resist the actions that the role forces him to in order to display his power make the description of the elephant's physical distress is excruciating (= schmerzhaft) the elephant appears most magnificent just as it falls at the elephant's moment of bodily defeat, it only becomes a more powerful symbol of the irrational savagery of colonialism there is nothing humane about Orwell's killing of the he does not even know how to kill it fact elephant, in painlessly 3 in the same way, British empire is inhumane not out of necessity, but rather out of ignorance regarding both the land it has colonized and the way that colonization acts on both the colonized and the colonizer illustration of meanwhile, the Burmese' readiness to eat the elephant underscores the desperation of their situation, and the way in which colonial oppression has made them focus on survival the colonial cycle perpetuates the way itself the (=aufrechterhalten Causes and effects cause the British colonized the the narrator receives a call about the elephant the elephant Orwell finds the that Orwell doesn't want to humiliated laughed at & he needs to symbolize colonial authority → inner conflict (job 4 moral) be how to correctly shoot an Orwell doesn't elephant Sequence First / firstly, second Next, last, finally Also In conclusion To summarise Burmese dead coolie and now knows is dangerous know In addition, moreover Further/ furthermore Another Reason For Because (of) Since As and • Consequently Due to Example Linking words and phrases Result So As a result As a consequence Therefore Thus For example For instance effect hidden hate & secret rebellion & disrespect towards British That is (ie) Such as Including there's pressure on him, because he has to symbolize colonial authority & the Burmese there fore have expectations towards him he wants to an orderly for an Orwell shoots the to die elephant dies in have something for self defense → he sends → he has to shoot the elephant Also Too As well as the elephant Comparison elephant gun Addition And In addition / additionally Furthermore Likewise / Like Also Just as / like Similar to Same as agony & it Compared to /with not only... but also took him half Contrast However nevertheless Still Although / even though But Yet Despite / in spite of In contrast (to) / in comparison While Where as 4 an On the other hand On the contrary hour Name: Josi Topic: George Orwell: Shooting an Elephant In Context to: Great Britain - tradition and change (Großbritannien - Tradition und Wandel): [...] wesentliche Veränderungen auf sozialer, kultureller, politischer oder wirtschaftlicher Ebene (British Empire - insbesondere colonization, Industrialisierung [...]). Strack TASK: Write a short essay on Eric Blair's attitude towards British imperialism and colonial encounters based on his essay Shooting an Elephant. Widerstand ● LNW Q2 The formal characteristics of an essay are summarized as follows: ● a clear, comprehensible and usually three-part structure with an introduction, a >main part< consisting of several paragraphs and a conclusion, 0 Date: 03.05.21 Ⓡ a clear paragraph structure with one main idea per paragraph, ● a so-called >topic sentence at the beginning of each paragraph, which concisely expresses the core idea or thesis of the paragraph, a clear argumentation structure and comprehensible thought leadership, a clear focus, central theme and a thesis (thesis (from the ancient Greek Oćoiç thésis, German 'aufgestellter Satz, Behauptung')[1] refers to an assertion to be proven - - here: by citing or comparing (cf) evidence to support interferences drawn from the text - or a guiding principle. The counter-assertion can be an antithesis.) a varied and quite personal and not at all personalised argumentation (unproven opinion), a clear argumentation structure and comprehensible thought leadership (structuring a text) a clear structure of argumentation and a comprehensible line of thought (linking ideas), • a varied, thoroughly personal style but use thematically appropriate specialist vocabulary. Count your words: Get an overview about your work by counting the words of one line (e.g. 5-8 words in one line) and multiply them with the sum of the lines (e.g. 7 words x 80 lines = circa 560 words). GOOD LUCK! Q2 1. LNW Englisch The short story. in 1936 written by George Orwell about based on his British a police officer was born part of the time "Shooting an Elephant" (Eric Blair) is land were that to the Burmese' he ends as He himself His parents fully British why he was ought to be part Empire. The Shooting an Flephant! The narrator of sub-divisonal police the short Story is officeratsopes in Burma and the British Empire which unpleasent oppressed India. He reflects on his bact experiences he made in India. One day is told that an elephant and the narrator Personal he had gone must" is supposed to do something. Throughout the story it narrator the shoot Colonized in imperial in 1903 in British India. and that's of the British a analyed based on now BROR Sort experiences. Burma. up shooting and the elephant, but does also against it. is made clear 03.05.2021 at that W not want because of 'peer pressure' killing the elephant. In the following Eric Blair's (George Orwell's) towards British imperialism attitude colonial encounters will be based his essay "Shooting an Elephant." Throughout the 19th first half the occupied by of was The narrator the of of as hate in British one are As part a "I was of people Soccer of one the this situation. never has had chance to do something about. all, he has his British imperialism and & thoughts colonial which reflected in 20th the atostat century and the but towards The narrator the short Empire and oppressors. He and hated people [...]" (p.31) the the own century, India British. piper Story is part there fore was all of thinks that the other born into it. After by large numbers. narrator says oppressors, he felt this about every possible could get, e.g. he is fouled at The game. Burmese, as have everyone in their situation would, bad anti-European feeling and secretely expressed their disrespect not encounters. story. situation the Burmese only towards the narrator the oppressors. } all [of] this was perplexing and upsetting" (p.1). He surely was part of the Empire, but have a choice Empice. as said, didn't. than ressembling the Josi The narrator, in fact, did not be oppressor. On the contrary - "theoretically and secretely [...] [he] was the their oppressors [...] police officer all against His job as all the unpleasent of Eric an au le.g. wretched prisoners (p.32) a made Burmese ERSE concluded to be tyrauts. He it, but left in One all for Blair's no that more him feel guilty of for the appressed From this it Eric is the did he oppressor, or other the sides of imperialism, which not opinion Burmese and was Blair oppressors. want left resembled showed him choice Burmese want cau was was to to be than (p. 31-32) short by the one also that as tyrant, you were doing "force" you do the be not "happy" of the whatever you not have any to do. As an oppressor freedom than oppressed Burmese. A tyraut always has to stay. his high position, he has to be to do what is from others feared and. не has that. In the needed for this part having to shoot the elephant though he knows morally wrong, choice. story narrator even gr that this. because the elephant would be 2 ✓ is peaceful and does (anymore). As one not harm anyone of the oppressors, have to be powerful he needs to at the end he would who kill it be laughed miss the The narrator limited d actual "task" of imperialism fall out of Eric Blair wind hand their his had at freedom responsibility of he was Eric Blair, have in actions. anck Another negative point of British an oppressor hever 1 In conclusion and as your limited has - and of their to 1 42 Sprachi: 157 AVITO C: 14P av otherwise ou vole. this of an one their own. had of what do This made everyone's. an impressor. are colonialism. On oniali not cau 96 did who made his life Burmese difficult, but felt guilty for the other hand he them and didn't want make them feel bad, because situation already was to but as well. Both parts have would not the one like the insolent freedom and - say that conflicted 7x 105 = ca. 735 words and how - to choice act. life very difficult. 14 Th well done