Englisch /
Kommunikationsprüfung - Cartoon Analysis und Discussion
Kommunikationsprüfung - Cartoon Analysis und Discussion
Kommunikationsprüfung - Cartoon Analysis und Discussion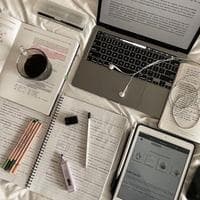 •Formulierungen für die Analyse eines Cartoons und für eine Gruppen-Diskussion
Lernzettél introductury sentence: (what, who, when, where, main topic) e.g.: The cartoon was publionect on (date) in the newspaper..../ on the internet by the cartoonist XY and is about/deals with the problem of ..., the scene depicts... •Cartoon Analipis: 1) Description. - describing: importat details, present progressive for activity verbs, include lables, speech bubbles, thought bubbles or a caprion • Phrases: The largest part of the cartoon is taken up by.... in the top-left hand corner on the in the bottom- left-hand corner •At the top/bottor / On the left/right / In the top-right hand corner / top-left hand corner/bottom right hand corner / bottom left-hand corner above / below At the top Furthermore in the background . in the middle/ center in the foreground At the bottom in the top- right-1 -ha- nd corn. on the right in the bottom- /right- hand corner can see... you In the speech / thought bubble one can read that... / the bubble refers to / describes / gives information about Under the cartoon there is a caption saying... • What omrikes the eye is... • facial expression, gesture, posture, body language 2) snalysis: • Describe conveyed message by the picture. Target group? intention to certain effect on viewer? How archieved? How do language, light, colours, focus and perspective support the message? The cartoon appeals to the reader directly by (-ing).... The characters body language rereals that... XYZ symbolizes/stands for / represents... • The carteen is meant to criticise... / that what you see/ description speech bubbles, caprions, symbols backround know.. leage, own ideas +experience humour Ciremy, exaggeration The cartoonist's / artion's point...
Mit uns zu mehr Spaß am Lernen
Lerne mit über 620.000 Lerninhalten von den besten Schüler:innen!
Vernetze dich mit anderen Schüler:innen und helft euch gegenseitig!
Bekomme bessere Noten ohne großen Aufwand!
Alternativer Bildtext:
seems to be that ... / His message might be that/ Perhaps his intention is to show..... The cartoon indicates / tereals that / suggests / alludes to / is making fun of ... in satirizing.... The cartoon illustrates the problem of 1 to exxagerate, to satinize, to ridicule, to criticize / to attack, to make fun of ... 3) Evaluation " to the cartoon effective and which elements are responsible for it's success / failure? • If historical picture: compare the original effect it had with the one it has now • If asked: Personal opinion the overall effect of the cartoon is... because/ which •The cartoon reminds me of his symbolic / is a (non-) stereotypical Fiew of ... because O Discussion: Beginning. I would Giving an opinion / example: In my opinion/view 1: I would like to start by asking... I Let me begin with... 11 am sure / convinced that ... / I'd like to add that... I would like to emphasize that... First of all For instance, look at... / Take... for example.. Statistics /Surveep show... Although.. I'm glad you was trying to say saying is that..., That's not quite what Making suggestions: What about (+ gerund)?, I would suggest / recommend... Balancing. On the one hand... (but) on the other hand..., Peaying for hime: To be quite honest, Giring in (to some extent): Even if that is so..., That's probably true, but..., I agree in principle, but... Connecting misunderstand andings. afraide Drawing conclusions. That's why... I For this reason Picking up sb's statement. I would like to comment on what you / XY just said about / come back... Arguing against oth: I strongly criticise. ...// completely disagree Disagreeing. I'm sorry, but I don't agree with that you at all. Asking for an opinion: How do you feel about this? I'm there misunderstanding. has been some ./ The logical consequence is.... with you Conversation and Discussion Defending your point. That's not what I opening a conversation You should always start a discussion with some kind of introductory phrase: • I saw an interesting programme on TV last night.../ I read a fascinating article in the newspaper yesterday about.../What do you think about ...? Have you ever thought about.../What would it be like I was really surprised to find out that.... Did you know that...? Do you mind if I join you? ● Excuse me.... (I'm) sorry (to trouble you), but.... Have you got time to...? making suggestions/recommendations If I were you, I would The best thing would be to... You'd better... Why don't you...? How about ...? Have you tried/thought of... (+ gerund)? You should/could... Perhaps I can interrupt you there. I'd like to get in on that if I may. • Do you mind if I say something on that point? Wait a minute... (I'm) sorry to interrupt, but.... Sorry, may I interrupt you for a second... Sorry, but did you say...? Can I just say/add that... Yes/You're right/l agree, but... I hope you don't mind, but.... holding the floor Sometimes you notice that someone is trying to interrupt you, but you haven't finished what you want to say, so you try to carry on: interrupting your conversation partner changing the subject Sometimes it is the other way round. Your partner is monopo- These expressions help you to bring in further aspects: lizing the discussion and you want to have your say: . Can I jump in here? . Can I just make a point? If I might just say this. • Do you mind if I just finish what I was saying? I'd just like to finish making this point and then it's over to you. Let me just add one more thing. This is my final point. Would you please let me finish (this sentence/thought)? 1 expressing your opinion/giving an opinion In my view, ... In my opinion,... As I see it, ... To my mind... • If you ask me.... I am sure/certain that... I think/believe/feel that.... It seems to me that.... • There should be.../ought to be... . I would like to.../I wouldn't like to It would be a good idea to... (because...) including your conversation partner Sometimes in a discussion, you may find that you are monopo lizing the conversation, and you would like to know what your partner thinks: So what do you think,... (+ name)? How do you feel about that? • What is your view on this (matter)? • What is your opinion about/of/on...> . (Oh) by the way.... Before I forget.... • I just thought of something.... There's something else I wanted to ask you/say.... Oh, now I know what I wanted to say/ask you... • I know this has got nothing to do with what we are talking about, but... . Could I just say... (before I forget...) Let's also consider... While I think of it..... . (Now) what was I saying/what were we talking about? • To get back to what we were talking about.... Let's get back to... . (Yes, well) anyway.... ... Let's get back to the point... . But we digress... • Where were we before we got onto this topic? 1 asked me that. defending yourself If someone attacks you in a discussion, you can say: That's not what I said/meant at all. I was merely point- ing out that... You've got that all wrong. What I said was... You're putting words in my mouth You are distorting what I actually said. returning to the original subject Sometimes people stray from the main issue of a debate and partial disagreement it is necessary to get back to the topic: As I was saying.... My point is that I meant. ending a discussion/a conversation When you feel that you have effectively finished your discus sion, that the conversation is not getting anywhere or that you have exhausted the topic, you can finish off We'll just have to agree to disagree on that point. Further discussion is pointless, so let's end there. We've heard some interesting points/some new ideas, so let's stop there and go away and think about them. I can understand you better now, even though I don't completely agree with you. . Well, anyway... . Would you excuse me now, please? Sorry, but I've got to go now. I'd love to stay and discuss this further, but.... It's been a very interesting discussion. However... Perhaps we can continue this another time. Look after yourself. • Take care. expressing complete agreement You're absolutely right. . I completely agree with you on that point. • Precisely/Exactly. So do 1./Me too. (agreement with a positive statement) Nor do I./Me neither. (agreement with a negative state- ment) That's what I think, too. Do you really think so? • Are you sure? That's an exaggeration. That's not necessarily the case/true. It's not as simple as that. I wouldn't quite say that. I can't imagine that. I find that hard to believe. we mustn't forget... on... expressing surprise I don't believe it/that! That's strange/funny... Are you (being) serious? Are you pulling my leg? • Really? You can't mean that seriously!/You can't be serious! I doubt it/that/whether.... Are you kidding me? using fillers • Well... ● Actually... You know/see.... Let's see... • 1/you mean Now let me think/see.... In fact,.... what I'm . I wonder... . The thing is... I see what you mean. •Right then. Let's say... expressing partial agreement You're right up to a point. That might be the case/true. You could be right. You've got a point. Maybe that's true. That's true enough. complete disagreement Careful with this one! You do not want to make enemies, do you? Try not to be abrupt or too direct. That is definitely not the case. . I'm 100 % certain of that. (disagreement with a previous negative statement) That's not true at all. You're quite wrong there. I totally disagree with you.